04 January 2016
Start of Work on the Pasteur Development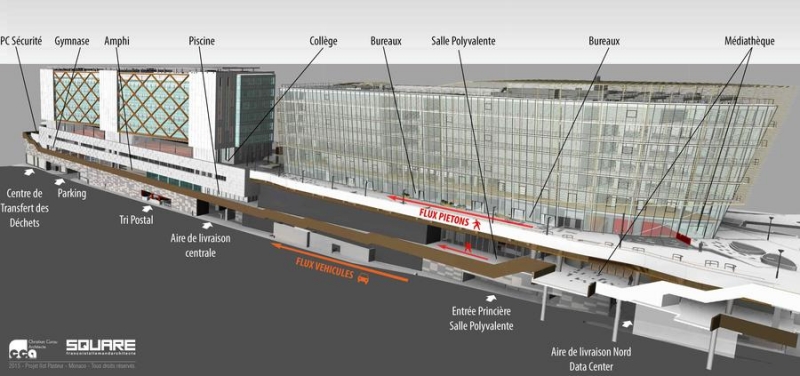 Following the completion of the State-owned apartment buildings "Les Jardins d'Apolline" and "Helios" on the Ilots Rainier III and Canton developments, the Prince's Government is continuing the urban development of the former railway land on the Ilot Pasteur. The first preparatory work will begin in January 2016.
Ultimately, this phase of urban development represents new opportunities to improve our daily life. By 2020, this piece of land, which measures 250m long and 35m wide, will accommodate:
· the new secondary school and its annexes (swimming pool, gymnasium and auditorium)
· a postal sorting centre
· a transfer centre for recyclable waste
· the new Espace Léo Ferré
· a data centre
· the new municipal Multimedia Library
· the Department of Education, Youth and Sport
· an office complex and a car park with 900 parking spaces.
The development will be carried out in line with the High Environmental Quality (HQE) approach.
"During the first two-year phase, earthworks should make it possible to bring down the Boulevard Charles III at the level of Avenue deFontvieille, therefore creating a solid base for the Pasteur development," explained Olivier Lavagna, Director of Public Works. He added: "Prior to this, a series of works will take place in 2016. This work will include moving service networks (such as water, electricity, telecommunications, etc.), creating an underground technical area and reprofiling the highway."
This work will make it necessary to modify the traffic flow system while maintaining the main routes – the entry to and exit from Monaco, access to the Avenue Pasteur (and therefore to the CHPG) and the exit towards the Rainier III tunnel.
Furthermore, a provisional route will be created in front of the "Millenium" and "Villa Pasteur" apartment blocks to give access to the car dealers and to these apartment blocks during the work. However, it will no longer be possible to park outside the car park of these buildings.
Finally, during this first phase of work, the "Cemetery" ("cimetière") bus stop, in the Nice-Monaco direction, concerning the "Azur" bus route and routes No. 3 and 4 of the CAM, will also be moved 50m towards Monaco.
Further information: travauxpublics@gouv.mc
Retour vers la liste