24 January 2017
Celebrations for Saint Devota's Day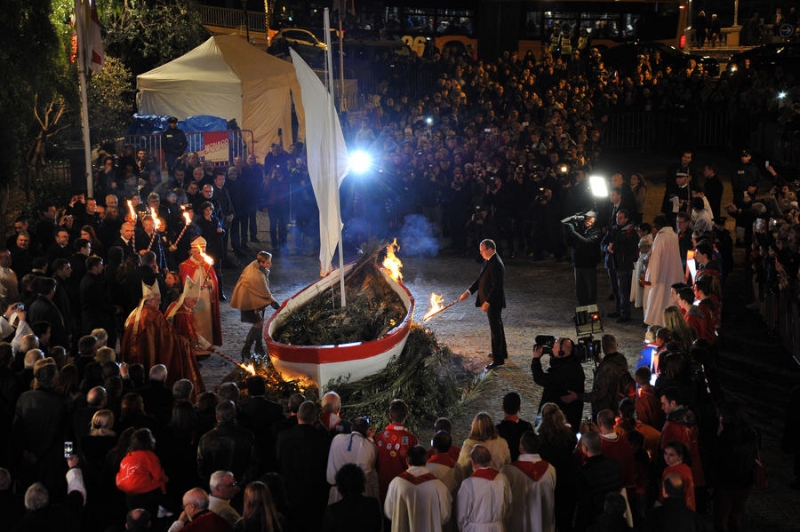 On Thursday 26 and Friday 27 January 2017, celebrations will take place for Saint Devota, patron saint of Monaco. These celebrations are linked to one of the Principality of Monaco's oldest traditions – a tradition that has permeated national culture in areas as varied as religion, folklore, popular beliefs, history, literature, the arts, paintings, music, numismatics and philately.
It stems from the legend known as the "Legend of Saint Devota," which was recounted in a medieval document. The tradition is dear to the heart of Monegasques and has been documented repeatedly over the centuries in the city's history.
According to this legend, Devota (Dévote in French), a young Christian woman and native of Corsica, was martyred by the Prefect Barbarus under the Emperors Diocletian and Maximian at a date that we can estimate at between 303 or 304. Her body was stolen during the following night by believers, put in a boat and transported to Monaco, where it was buried in a chapel in a valley known as the "Gaumates," near the port, on 27 January of the same year.
Under Honoré II, in the 17th century, Saint Devota became patron saint of Monaco.
The tradition has been perpetuated each year since 1877 – a boat is burned on a pyre in the presence of the Sovereign and the Royal Family, accompanied by Monegasque dignitaries. Once the boat has been burned, fireworks are let off on Port Hercule.
On 27 January, the Feast Day, a Mass is celebrated in the Cathedral by the Archbishop of the Diocese. This Mass is attended by the Prince's Government, Members of Parliament and constitutional bodies, as well as many of the faithful. After the ceremony, a procession, with the penitents of the Brotherhood of Mercy, sets off for the Prince's Palace with the reliquary chasse containing the relics, escorted by the Palace Guards.
The procession halts in front of the Prince's Palace. A guard of honour and the brass band of the Palace Guards pay homage to it. The procession then heads towards the ramparts. The Archbishop then holds up the relics and presents them towards the Palace, Monaco and the sea, asking the Saint to protect the Sovereign, the Royal Family, Monaco and its population.
Find out more on: www.saintedevotemonaco.com
Retour vers la liste